PP/Polypropylene Strapping Band
Polypropylene strap (oriented or tensilized) is an economical material designed for light to medium duty unitizing, palletizing and bundling.

It is available in various widths, thicknesses, and polymer variations (e.g., copolymers).


Most polypropylene is embossed, some of which is also printed.

This product offers higher elongation at break but tends to have irrecoverable dead stretch with constant stress.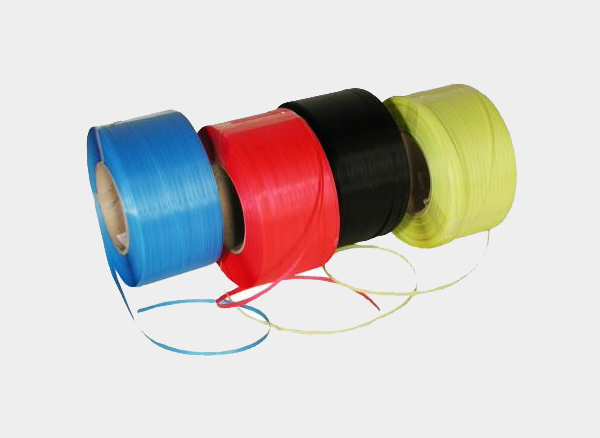 Polypropylene/P.P. Strapping Band Range
| Width | Thickness | Length | Breaking Strength | Quality | Colour |
| --- | --- | --- | --- | --- | --- |
| 5mm | 0.47mm | 7000 mtr | 50kg | Semi Automatic | TP |
| 5mm | 0.50mm | 5500 mtr | 42 kg | Fully Automatic | TP |
| 9 mm | 0.65 mm | 2000 mtr | 80 kg | Semi Automatic | Yellow |
| 9 mm | 0.70 mm | 2000 mtr | 85 kg | Semi Automatic | Yellow/Green/White |
| 12 mm | 0.70 mm | 1800 mtr | 120 kg | Semi Automatic | TP/Black/Yellow/White |
| 12 mm | 0.70 mm | 1800 mtr | 120 kg | Fully Automatic | White |
| 15 mm | 0.65 mm | 1500 mtr | 145 kg | Semi Automatic | Yellow |
| 15 mm | 0.80 mm | 1200 mtr | 155 kg | Semi Automatic | Yellow |
| 19 mm | 0.80 mm | 1000 mtr | 180 kg | Semi Automatic | Yellow |
Relevant Tools