Battery Powered Plastic Strapping Tools
Battery Powered Plastic Strapping Tools
- are used for higher volume applications. These are combination tools which perform the tensioning, Sealing and Cutting functions. These tools for plastic strap use a friction weld. Our range of battery-powered
strapping equipment
provides the right tool and strapping for every application. Plastic strapping is available in widths from 9 mm to 32 mm.
The new battery strapping tools P328, P329 and P331 are available in two different versions: with one button or two buttons. Tools with one button are designed for automatic use.
The new tool models are also equipped with brushless motors. This ensures a longer lifespan of the tools and reduced maintenance costs.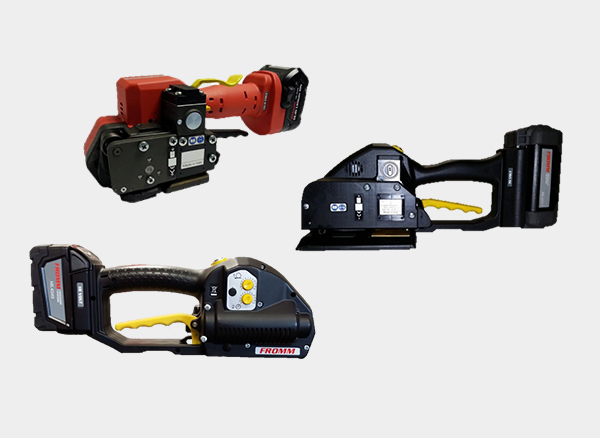 Battery Powered Strapping Tools
| MODEL | BRAND & ORIGIN | STRAP DIMENSION | STRAP QUALITY | SEAL / JOINT TYPE |
| --- | --- | --- | --- | --- |
| P318 | FROMM, Italy | 9mm or 12mm | Polyester | Friction |
| P328 | FROMM, Italy | 12mm or 16mm | Polyester | Friction |
| P329 | FROMM, Italy | 16mm or 19mm | Polyester | Friction |
| Dynamic 2100 | FROMM, Italy | 16mm or 19mm | Polyester | Friction |
| P331 | FROMM, Italy | 19mm or 25mm or 32mm | Polyester | Friction |