AP 502
is fully automated and computerised Airpad machines which produce a sheet form of Air pillows of 6 different sizes from the same roll of film. These Air pillows are used for void filling in boxes to protect goods and because they are produced in a sheet format, are capable of being wrapped around larger items for complete protection during transit. These
machines
are also programmed to create 45 different variations of the 6 sizes of Air Pillows which will allow our customers the freedom to create a pillow specifically geared to the product that requires transit protection at a touch of a button.
Features of the machine:
Industrial, heavy-duty design
45 variations of cushions with one film
Pre-set programs, easily selectable on screen
Wide range of films from 25 to 65 microns
Wide range of materials: PE, PE-PT, PE-PA, laminated, coextruded
AP 502 with integrated winder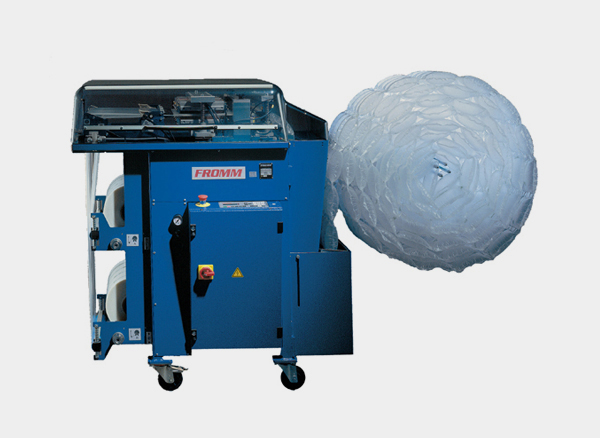 Air Pad Machine - AP 502
MODEL
BRAND & ORIGIN
PORTABLE
NO. OF PROGRAMS
AP 502
FROMM, Switzerland
Yes
45
AP 250
The new table top machine in combination with a wide variety of standard or customised
accessories
offers customers an extensive range of applications: Stand alone systems or integrated in multi-user workstations. The large number of programs allows to produce the most suitable Airpads for your product. Endless production or pre-programmed amount of pads in different film thicknesses and film qualities open a wide field of applications.
Features of the machine:
Long life design and rugged construction
Minimum of maintenance required
Easy Teflon changes
No compressor required
Easy to load film
Easy to operate
Adjustable air volume
Programmable lengths of air-chains
Programmable lengths of airpads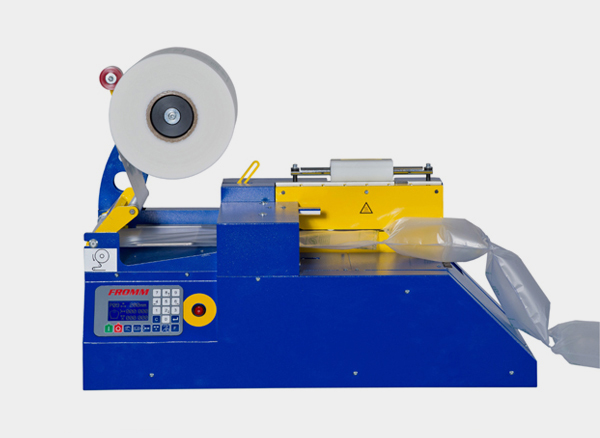 Air Pad Machine - AP 250
MODEL
BRAND & ORIGIN
PORTABLE
NO. OF PROGRAMS
AP 250
FROMM, Switzerland
No
18
AP 100 The new and compact Airpad AP100 table top air pillow machine of Fromm is user friendly and ideal for decentralized packing stations. The various pad sizes allow to produce the most suitable airpads for superior protection of products

Features of the machine:
User friendly
-Easy to operate
-Easy roll change
-Short start-up time
Ergonomic, integration with
-mobile bin
-Stand alone hopper
Highly reliable and low maintenance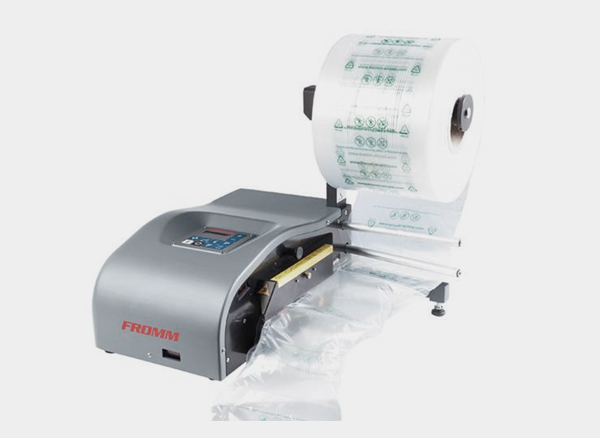 Air Pad Machine - AP 100
MODEL
BRAND & ORIGIN
FILM WIDTH
NO. OF PROGRAMS
AP 100
FROMM, Switzerland
200mm, 400mm
10 – 16 meters / min
AP 150 The new rapid Fromm's compact bubble on demand system Airpad AP150 generates with high Speed 18 meters of film per minute. In addition the machine is very user friendly in execution and has good ergonomics with simple and reliable winder.

Features of the machine:
- Very user friendly
- Easy to connect
- Automatic starts and stops
- Fast generation of "bubble film" material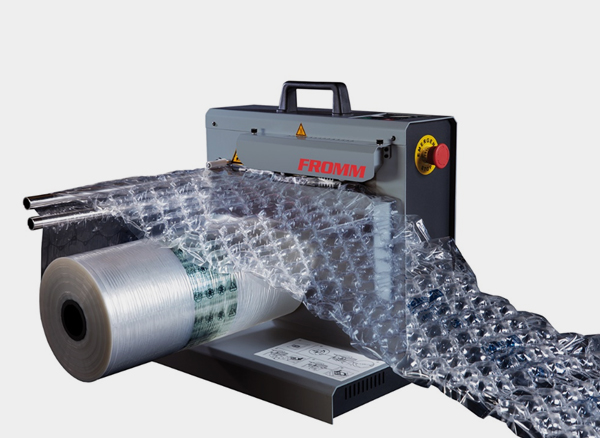 Air Pad Machine - AP 150
MODEL
BRAND & ORIGIN
FILM WIDTH
NO. OF PROGRAMS
AP 150
FROMM, Switzerland
400mm
18 meters / min